Jan 31 2016
Welcome back to the Neverland Podcast!
It's the end of the month and I've got so much content to share with you this week that I'm definitely going out of January with a high note!
First we'll visit the Neverland Trailer Park with Pixie Heather to talk about some of the trailers we saw as we went out to see the new Dreamworks production, Kung Fu Panda 3. And of course since we saw that movie, you can expect a review of it as well! Did this movie live up to the fun of the previous films?
Next up I wanted to weigh in on some various Star Wars theories I've been hearing about. There have been great discussions on these topics by the Techno Retro Dads and the D-Cast. In fact, I'm working with Dale from the D-Cast to make a fun episode for you next week, and hopefully introduce you to a new favorite Disney Podcast. They are very similar to me and I'm looking forward to talking with them!
We'll dive into some feedback and listener appreciation before sharing a great conversation with Joel from DuctTuff. Lost Boy Jesse is a friend of his, and Joel has created some really cool items for sale that I think you'll want! Comic book wallets! He also has created a really cool game!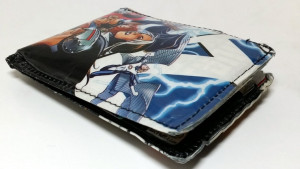 And finally I get to share with you some audio of the Harry Potter Film Celebration from the Universal Orlando Theme Park. This is taken from a live stream they've had on their YouTube channel where they had some very special guests. Make sure you visit their channel and take a look at the video if you are a Harry Potter fan!
Be sure to visit iTunes to purchase your copy of Star Wars: The Force Awakens (Original Motion Picture Soundtrack) – John Williams
Please also pick up your copy of Journey to the Stars – Tom Ameen
Grab your pixie and let's fly to Neverland! More
Podcast (neverland): Play in new window | Download